Waterfalls
Explore scenic waterfalls in Western North Carolina
Waterfalls of Western North Carolina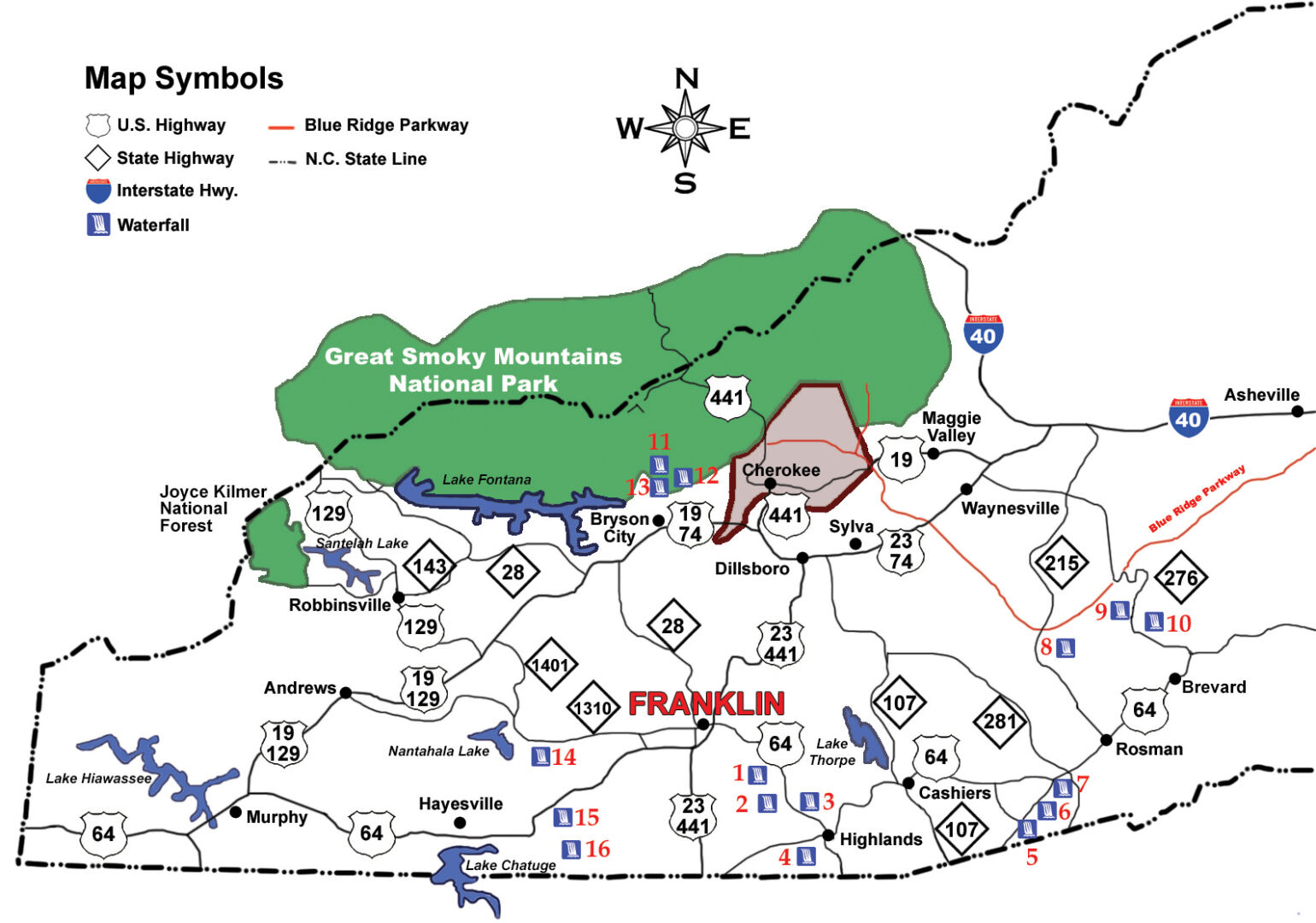 This is a guide to 16 scenic waterfalls in Southwestern North Carolina, including areas of the Nantahala National Forest, Pisgah National Forest, and the Great Smoky Mountains National Park. We've also included a waterfalls map to help you get there.
1. Cullasaja Falls – Visible from U.S. 64, in Cullasaja Gorge, 11 mi. east from Franklin, 9 mi. west from Highlands. Height 250 ft. Accessible by foot trail, a half-mile through steep, rough terrain.
2. Dry Falls – Located near U.S. 64, 3.5 mi. west from Highlands, 16.5 mi. east from Franklin. A paved walkway leads to falls from the parking area. Walk underneath the 75 ft. falls.
3. Bridal Veil Falls – 2.5 mi. west of Highlands on U.S. 64. Visible from the highway, which at one time routed traffic under the falls. Height 120 ft.
4. Glen Falls – From Highlands, travel 3 mi. south on NC 106. Turn left on U.S. Forest Service Rd. with the "Glen Falls" marker. The one-mile trail to the falls is steep and rough. Consists of three large falls, each dropping approx. 60 feet.
5. Whitewater Falls – At 411 ft., the highest falls in Eastern America. From Cashiers, take U.S. 64 east, 10 mi. to "Whitewater Road." Falls are located 10 mi. south on Whitewater Rd., near the NC-SC state line. Drift, Horsepasture, and Rainbow Falls are also accessible from Whitewater Rd. Whitewater Falls can also be reached from N.C. 107, south of Cashiers.
6. Rainbow Falls – From Cashiers, take U.S. 64 to N.C. 281 South. The trail to the falls is two miles from this intersection.
7. Toxaway Falls – These falls can be seen from your car as you cross the Toxaway River on U.S. 64 East near Rosman.
8. Courthouse Falls – Take US 64 East to N.C. 215 North. Travel 10 miles and take right on Courthouse Creek Road. Trailhead is well marked.
9. Sliding Rock – This natural waterslide is a favorite of many people. Just jump in the water at the top of the falls and slide down the rock face to the bottom. 11,000 gallons of 50 to 60-degree water rushes down the rock every minute. Take 276 North from Brevard. 7 Miles north of the Ranger Station.
10. Looking Glass Falls – Take 276 North from Brevard. Falls are approximately 4 miles north of Ranger Station. The parking area is well marked. Short walk to falls.
11. Indian Creek Falls – From Bryson City, take "Deep Creek Rd." north 3 mi. to Deep Creek Campground in the Great Smoky Mountains National Park. One-mile hike to falls is classified as "easy". Height 60 ft.
12. Juneywhank Falls – Follow directions to Indian Creek Falls. Juneywhank Falls are one-quarter mile downstream from Indian Creek.
13. Tom's Branch Falls – See directions to Indian Creek Falls. A quarter-mile walk from Deep Creek Campground.
14. Rufus Morgan Falls – This easy one-mile loop trail is named after Rufus Morgan, a naturalist who was instrumental in developing the Appalachian Trail. Take U.S. 64 for 3 miles west of Franklin. Turn right at Wayah Bald directional sign. Take first left onto Wayah Road (S.R. 1310). 6.6 Miles and then left of F.S. Road 388. Trail 2.2 miles on the right
15. Big Laurel Falls – Go 9 miles west on U.S. 64. Turn left on Wallace Gap Road (Old U.S. 64) and go 1.5 miles. Turn right on F.S. Road 67 (toward Standing Indian Campground) and go 7 miles (5 miles past Back Country Information Center). The trail runs along an old railroad grade. After passing over the bridge, it splits; right ends at Big Laurel Falls.
16. Mooney Falls – See directions to Big Laurel Falls, continuing for .7 mile past Big Laurel Falls trailhead. A very short trail descends to Mooney Falls. Roadside parking is available.