Education
Educational opportunities for all ages
Education in Franklin, NC
wranklin offers educational opportunities for all ages (pre-school through retirement). In addition to a strong public school system, we have a nationally recognized Head Start program, a community college offering both degree and continuing education programs, and easy access to a university.
Pre-School
Macon Program for Progress manages a model Head Start program with several facilities in the county. For additional information call (828) 524-4473. In addition, there are several private daycare centers in and around Franklin.
Public Schools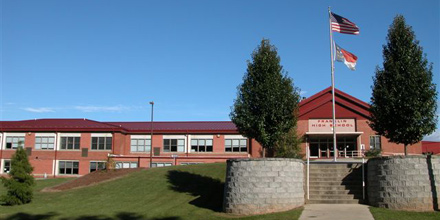 Our public school system includes Franklin High School, Macon Middle School (grades 6 through 8), and seven elementary schools with a total student population of approximately 4,000 students. For additional information call (828) 524-3314.
Private Schools
Macon County has one private school, Trimont Christian Academy at 98 Promise Lane, which serves students from pre-school through grade 12. For additional information call (828) 369-6756.
In addition, several Macon County parents send their teens to Rabun Gap Nacoochee School, a college prep school serving grades K through 12, in Dillard Georgia.
College
Founded in 1964, Southwestern Community College continues to grow to meet the needs of Macon County residents, and college leaders have recently announced expansion plans to accommodate the growth that's expected to continue in years ahead.  Consistently ranked among the nation's Top 10 community colleges, SCC was a semifinalist for the 2023 Aspen Prize for Community College Excellence,
SCC currently operates on partners with four facilities in Macon County:  the Cecil Groves Center (Macon Campus), Macon Early College (MEC), Jerry Sutton Public Safety Training Center and LBJ Job Corps.  The Macon Campus offers four college/university transfer degrees, certificates in Business Administration, Criminal Justice and Nurse Aide and various Career Technologies and pre-Health Sciences courses.
A Student Services Department provides assistance with admissions, college placement, Health Sciences testing, financial aid, advising and student activities.  The Macon Campus also houses a Learning Assistance Center, University Transfer Advising Center, business office and a student computer lab.  Conveniently located near the Macon County Public Library, the beautiful surroundings provide an atmosphere conducive to learning.  The Macon Campus of SCC strives to open doors to the future – whether for academic skills, personal enrichment or career goals.
The Macon Campus is increasing Workforce Continuing Education classes such as phlebotomy, electrical contractor CE, Quickbooks, photography, sign language, notary public, and defensive driving classes.  Also offered are evening classes for adult literacy, high school equivalency (GED/HiSet Test Preparations), and English Language Acquisition.
Public Training Safety Center
Located at the Macon County Industrial Park, the Jerry Sutton Public Safety Training Center (PSTC) provides both basic and advanced training for personnel in emergency medical services, law enforcement, and fire and rescue.  
The PSTC is one of only six sites in the country to offer law enforcement training for the National Park Service (NPS), and in the spring of 2019, SCC became the national's first community college to offer a Park Ranger Law Enforcement Academy for the NPS.  The training center is located at 225 Industrial Park Loop in Franklin, NC .  828-306-7041. 
SCC remains committed to meeting the educational needs of Macon County residents.  With help fronm local and regional partners in economic development, SCC continues to grow and expand its programs.  Located at 44 Siler Farm Road in Franklin.  Visit SCC online at www.southwesterncc.edu or call 828-306-7001. 
University
Western Carolina University in Cullowhee is just 25 miles away and a member of the North Carolina University system. It provides undergraduate degrees in the applied sciences, arts and sciences, business, education, and allied professions. They offer twelve master's degrees and two doctorial degrees. With an undergraduate population of approximately 7000, this small university attracts students from across the country and around the world.
Victory Baptist Church/School
278 Victory Church Rd.
Franklin, NC 28734
828-586-2120
Cartoogechaye Elementary
3295 Old Murphy Rd,
Franklin, NC 28734
828-524-2845
Iotla Valley Elementary
1166 Iotla Church Road,
Franklin, NC 28734
828-524-2938
East Franklin Elementary
100 Watauga St,
Franklin, NC 28734
828-524-3216
Franklin High
100 Panther Dr,
Franklin, NC 28734
828-524-6467
Highlands School
545 Pierson Drive
Highlands, NC 28741
828-526-2147
Macon County Middle
1345 Wells Grove Rd,
Franklin, NC 28734
828-524-3766
Macon Early College
815 Siler Rd
Franklin, NC 28734
828-369-7331
Mountain View Intermediate
161 Clarks Chapel Rd
Franklin, NC 28734
828-349-1325
Nantahala School
212 Windingstairs Rd,
Topton, NC 28781
828-321-4388
South Macon Elementary
855 Addington Bridge Rd
Franklin, NC 28734
828-524-2947
Union Elementary
158 Union School Rd,
Franklin, NC 28734
828-524-2346