History
Our roots run deep in Franklin, NC!
Discover the Rich History of Franklin, NC
Macon County was formed in 1828 and named in honor of Nathaniel Macon of Warren County. He served thirty-six years in Congress from 1791 to 1828. He died in 1837. Macon County was reduced in size to form all or parts of Cherokee, Jackson, and Clay Counties. The actual county government of Macon County was not formed until March 1829.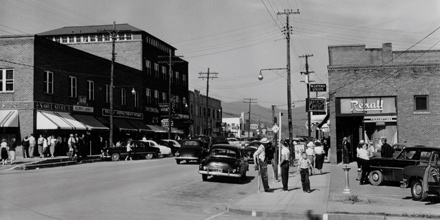 State Commissioners Jesse Franklin and James Meabin came to the area in 1820 to organize and conduct a survey for the county seat. The town was later named in honor of Franklin, who was to become governor of North Carolina before the year was over. The town of Franklin was not incorporated, however, until just before the Civil War in 1855. Franklin was formally incorporated in 1855. By the time of its incorporation, the town could boast both a boys' and a girls' academy. By 1860, it had a weekly newspaper, "The Franklin Observer," published by L.F. Siler.
The Civil War brought hardship, although no battles were fought there. Seven companies were raised in Macon County, which then had an adult male population of approximately 3,000. The Confederate Memorial on Main Street honors their service.
The land that is now Macon County was originally part of the vast territory of the Cherokee Indians, who shared a sophisticated culture and an organized tribal government. The Spanish were the first of the European explorers to come, under Hernando DeSoto in 1540, and later, under Juan Pardo and probably others seeking gold. No evidence survives of the Spaniards in Macon County, although it is said that Spanish artifacts were recovered from sites along the Little Tennessee River.
European nations competing for dominance in the New World recognized the importance of the powerful Cherokees. Several major contacts, councils, and battles took place in the county. One of the more colorful early episodes involved Sir Alexander Cuming, a diplomat with questionable credentials. In 1730, Cuming called a council among the Cherokees at the council house on the Nikwasi Mound (still standing on Main Street, Franklin) winning their allegiance to the British King. He took some of their young men back to England with him, including Attakullakulla, the Little Carpenter, destined to become one of the greatest of the Cherokee Indian Chiefs.
The British developed an important trading network with the Cherokee through the South Carolina colonial government. When the French-Indian War broke out, the Cherokees sided with the British. Relations later turned sour, however, leading to two years of war between these former allies, including two major battles in what is now Macon County. In June 1760, British and Colonial forces under Colonel James Montgomery lost to the Cherokee at Nikwasi. The following year the Indians suffered a major defeat under Colonel James Grant, at the Village of Etchoe, near present-day Franklin.
Scars of the battle were still visible when Thomas Griffiths arrived in 1767, to dig the Cherokee clay, pure white kaolin, for Josiah Wedgewood. In one of the great industrial stories of the time, Wedgewood went to enormous expense and effort to obtain the kaolin, which is essential for the production of porcelain. The first of the famous Queensware was made from clay Griffiths brought back from the Village of Lotia, north of what is now Franklin.
The Tallulah Falls Railroad came into Franklin in 1907 until 1962. Another interesting fact is that Walt Disney shot a movie in Macon County called The Great Locomotive Chase in 1956.
Our roots run deep in these majestic mountains. While visiting Franklin be sure to visit the Cowee West's Mill Historic District. Located off Route 28 North, you'll discover man-made structures dating back more than 1,400 years and many other great finds. Click on their highlighted name to learn more.
The Macon County Historical Museum is another great treasure waiting to be discovered. Check out Franklin's Civil War connections at the museum and along town hill with our two markers that are part of the Civil War Trails project.
Our Scottish heritage is celebrated at the Scottish Tartans Museum in downtown Franklin. This museum is the only one of its kind in the United States and is a direct extension Scottish Tartans Society in Keith, Scotland.
Gem & Mineral lovers will find thousands of specimens on display at the Franklin Gem & Mineral Museum. Must-sees include the 2.25-pound ruby from one of our local mines and the fluorescent room.
Driving directions to Franklin, NC
From Asheville
Take I-40 West to Exit 27 (23 South/74 West).
Stay on 23/74 to Exit 81 (U.S. 441/23 South).
Approximately 18 miles to Franklin from this exit.
Approximately 65 miles.
From Atlanta
Follow I-85 North to I-985.
Left on I-985 which becomes 23/365 North.
23/365 becomes 23/441 North. Follow straight into Franklin.
Approximately 125 miles.
From Greenville, SC
Take I-85 South to Exit 19 (Clemson).
Follow 76 West to Clayton, Georgia.
Take U.S. 441 North straight to Franklin.
Approximately 110 miles.
From Knoxville, TN
Interstate: I-40 East to Exit 20 (Hwy 276 South).
Stay south on 276 until reaching 23/74 South.
Follow to Exit 81 (U.S. 441/23 South).
Approximately 18 miles to Franklin from this exit.
Approximately 130 miles.
Scenic
Take U.S. 441 South from Knoxville to Sevierville (approximately 25 miles).
Remain on 441 South to Pigeon Forge/Gatlinburg.
Take a by-pass around Gatlinburg.
Remain on 441 South through the Great Smoky Mountains National Park to Cherokee.
Stay on 441 South to Franklin (35 miles from Cherokee).
Approximately 110 miles
Weather & Climate of Franklin, NC in Macon County
Geography
Macon County is located in southwestern North Carolina, about 65 miles west of Asheville, NC, and 130 miles north of Atlanta, GA. The county lies within the Blue Ridge Physiographic Providence and contains several mountain ranges with peaks over 5,000 feet in elevation.
The county land area is 516 sq. miles and the population is 33,756. Franklin, the county seat, lies near the center of the county at an elevation of 2,110 feet with a population of 3,490. Highlands is the other major town in the county with a population of 1,100 year-round residents and is the highest incorporated town(4,118 feet) east of the Mississippi River. Major highways run north-south in the Little Tennessee River Basin and east-west across mountain ranges.
Climate
The climate of the region is classified as marine, humid, and temperate because of high moisture and mild temperatures. Four distinct seasons provide a diverse climate. Although the county is in one of the highest rainfall zones in the eastern U.S., there can be large spatial variability in precipitation amounts during storm events.
Average Temperature
(degrees Fahrenheit) Coweeta Hydrologic Laboratory, 1934-2007