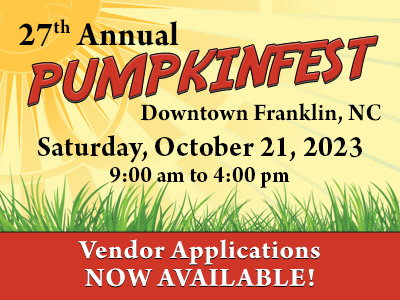 Pumpkin Fest
Get ready to let the good times roll!
Franklin, North Carolina's 27th Annual PumpkinFest will roll into action on Saturday, October 21, 2023! People of all ages are sure to enjoy Franklin's largest street festival. Children and adults alike will have a blast taking part in traditional and some very non-traditional fall festivities including the "World Famous Pumpkin Roll" contest.
The Costume Parade and Contest is another highlight of the day. And don't miss out on over 80 vendors including mountain arts & crafts along with great food and more! PumpkinFest runs from 9am to 4pm and is held rain or shine in Franklin, NC.
Vendor Applications Now Available for 2023!
Vendor Applications are now available for the 27th Annual PumpkinFest! Choose your category and tap or click on the links below to download a PDF of the full application.
» Download Arts & Crafts Vendor Application
» Download Food & Beverage Vendor Application
» Download Non Profit Application
If you have any questions, please email events@franklinnc.com or call 828-524-2516 ext. 307.